Welcome to OERL, the Online Evaluation Resource Library. This library was developed for professionals seeking to design, conduct, document, or review project evaluations. The purpose of this system is to collect and make available evaluation plans, instruments, and reports for NSF projects that can be used as examples by Principal Investigators, project evaluators, and others outside the NSF community as they design proposals and projects. OERL also includes professional development modules that can be used to better understand and utilize the materials made available.
OERL's mission is to support the continuous improvement of project evaluations. Sound evaluations are critical to determining project effectiveness. To this end, OERL provides:
A large collection of sound plans, reports, and instruments from past and current project evaluations in several content areas


Guidelines for how to improve evaluation practice using the Web site resources
OERL's resources include instruments, plans, and reports (the tabs across the top of this page) from evaluations that have proven to be sound and representative of current evaluation practices. These resources are organized into project categories, represented by the tabs at left. Also included are alignment tables that contain criteria and a glossary to help you develop your own plans, reports, and instruments.
Not sure where to start?
Try reading some user scenarios for these resources.
OERL is supported by the Division of Research, Evaluation and Communication, Directorate for Education and Human Resources, National Science Foundation (Task Order B040409 under Contract No. GS-10F-0554N, Task Order B16510X under Contract No. REC-9912172, and Task Order B08992X under Contract No. REC-9912172).
Any opinions, findings, and conclusions or recommendations expressed in this material are those of the authors and do not necessarily reflect the views of the National Science Foundation.
This site has a set of tabs across the top and and another running down the left side. Each combination of the two takes you to a different page. For example...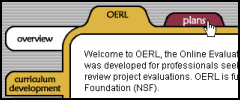 ...from the OERL home page, clicking the Plans tab on the top takes you to...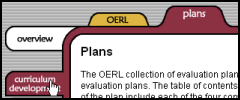 ...the Plans overview page. From here, if you click a side tab, such as the Curriculum Development tab, you'll go to...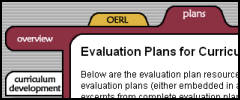 ...the Plans page for Curriculum Development. This page only has plans specific to Curriculum Development projects.